Industry Poster Session at the International Conference on Smart Systems and Technologies 2017 (SST 2017)
CALL FOR PARTICIPATION
Organized by the Faculty of Electrical Engineering, Computer Science and Information Technology, J.J. Strossmayer University of Osijek and Alumni Association of the Faculty of Electrical Engineering, Computer Science and Information Technology Osijek (AMA-FERIT)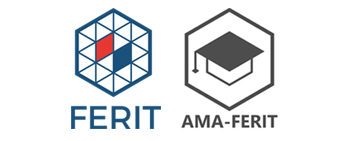 VENUE
Hotel Osijek
Šamačka 4, 31000 Osijek, Croatia
DATE AND TIME
October 19, 2017, 14.30-15.00h
FACEBOOK
https://www.facebook.com/SSTInternationalConference/
CONTACT
sandra.vdovjak@ferit.hr
tel. 031/224-700
IMPORTANT DATES:
September 29, 2017
Posters submission deadline
October 2, 2017
Notification of acceptance
October 6, 2017
Conference registration
SST 2017 conference will host an Industry Poster Session on Thursday, October 19, 2017 from 14.30-15.00h. The Industry Poster Session will take place at the SST 2017 conference venue – the Hotel Osijek in Osijek, Croatia.
The Industry Poster Session provides an opportunity for companies to present their work in the areas of ICT related to the SST 2017 conference topics to a wider community of researchers from academia and industry. This session aims to encourage interaction and networking among companies and researchers, as well as the audience.
The posters will be on permanent display throughout the conference, which will provide a platform for continuous interaction between the authors and the conference attendees during the course of the conference.  Company representatives will be required to attend the posters during the designated time for Industry Poster Session on October 19, 2017. All companies will receive a certificate (gratitude letter) for attending and contributing the SST2017 conference and research community.
The poster should be formatted according to the SST Poster Session template available AT THIS LINK in standard A1 paper size ( 594 x 841 mm, portrait orientation) and submitted electronically before the poster submission deadline via the SST2017 on-line submission system available HERE
To keep within the time limits of SST Industry Poster Session as a whole, the number of SST posters will be limited. All submissions will be reviewed by the SST Industry Session Organizing Committee based on relevance to the conference, innovativeness, and quality of presentation.
The round table will be held on October 20, 2017 from 10:45 – 12:00h on the topic "Knowledge transfer from a faculty to industry" and all company representatives are invited to participate. For authors of accepted posters, the SST Industry Poster Session registration fee is 100 EUR and it includes:
SST Industry Poster session participation
Poster printing (A1 size)
Full access to other SST2017 conference sessions during that day: coffee breaks, conference luncheons, reception
City Tour
Conference gala dinner
IPS SESSION CHAIRS
Sandra Vdovjak, AMA-FERIT, ATO Inženjering
Josip Balen, FERIT Osijek
ORGANIZING COMMITTEE
Kresimir Romic, FERIT Osijek
Kresimir Vdovjak, FERIT Osijek
Ivan Vidovic, FERIT Osijek