Smart technologies for sustainable agriculture
Workshop Chairs
Drago Žagar, University of J. J. Strossmayer in Osijek, Faculty of Electrical Engineering, Computing and Information Technologies, Osijek, Croatia
Ivana Podnar Žarko, University of Zagreb, Faculty of Electrical Engineering and Computing, Zagreb, Croatia
Domagoj Šimić, Agricultural Institute Osijek, Croatia
Overview
Application of modern information and communication technologies in the agricultural sector can significantly increase the efficiency of agricultural land use, which will result in increased quantity and quality of agricultural yields and in reduced negative impact of climate change. The aim of the workshop is to present the latest research and technologies in the field of smart agriculture that are applied globally, to describe the current situation at the local and national levels, to detect important problems and challenges in the field and to propose adequate solutions. Furthermore, the main results of the scientific research project "IoT-field: An Ecosystem of Networked Devices and Services for IoT Solutions Applied in Agriculture" will be presented.
Topics
Authors are invited to submit manuscripts presenting original, unpublished research on the use of ICT solutions for sustainable agriculture. Topics of interest include, but are not limited to the following:
Sensors for smart agriculture and agri-environmental monitoring
LPWAN technologies and novel protocols for smart agriculture
Wireless sensor networks and IoT platforms for smart agriculture
Precision agriculture and data-driven solutions to increase crop yields
Robotics and AI-based solutions for smart agriculture
Smart farming for agroecology to reduce negative impacts of agriculture on the environment
Paper Submission and Publication
Prospective authors are invited to submit novel, previously unpublished full papers, addressing the topics of interest, for consideration for the workshop. All submitted papers will go through the regular peer-review process. Submission of a paper implies that, if the paper is accepted, at least one of the authors must register and attend the conference to present the work according to the general rules of the conference. Accepted and presented papers will be published in the conference proceedings and submitted to IEEE Xplore.
Guidelines for formatting, style, and submission of papers can be found on the SST2022 main page.
Important dates
May 31, 2022: Full Papers due
June 25, 2022: Notification of Acceptance/Rejection
July 15, 2022: Final, Camera Ready Papers, Due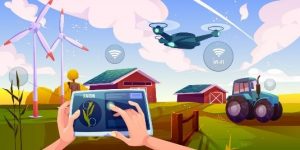 Date and time: Thursday, 20 October 2022, 9:30

Venue: Hotel Osijek, Šamačka 4, 31000 Osijek, Croatia
Workshop – Smart technologies for sustainable agriculture (Part 1)
(Room A – Lipa)
9:30 – 11:00
Josip Spišić, Ana Pejković, Matko Zrnić, Višnja Križanović, Krešimir Grgić and Drago Žagar
LoRaWAN parameters optimization for efficient communication
Krunoslav Tržec, Mario Kušek and Ivana Podnar Žarko
Building an Interoperable IoT Ecosystem for Data-Driven Agriculture
Dario Stuhne, Ivo Vatavuk, Ivan Hrabar, Goran Vasiljević and Zdenko Kovačić
Automated Suckering of Vines with a Mobile Robot and a Torque-controlled Suckering Tool
Krešimir Grgić, Luka Balić, Višnja Križanović and Drago Žagar
An example of indoor positioning possibility using WiFi network and mobile phone
Dora Krekovic and Ivana Podnar Žarko
Prediction of Microclimate Parameters for Application in Precision Agriculture
Workshop – Smart technologies for sustainable agriculture (Part 2)
(Room A – Lipa)
11:30 – 13:00
Domagoj Šimić, Vlatko Galić, Josip Spišić, Maja Mazur, Tatjana Ledenčan and Zvonimir Zdunić
Field-Based High-Throughput Phenotyping Using Newly Developed Proximal Sensor Device
Monika Zovko
Sensory Monitoring and Modeling of Temporal and Spatial Phenomena in Agroecosystems
Invited talk
Andrijana Rebekić
Digitalization in Agriculture – What Competencies Agronomist Needs
Invited talk
Vlatko Galić
Digitizing the In-Field Agro-Ecological Reality – Goals, Achievements, Pitfalls
Invited talk
Discussion / Round table